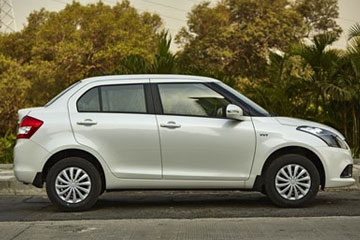 D&D Travels provide the best Swift Dzire taxi service in Amritsar. book Swift Dzire in Amritsar, Amritsar car rentals service, book swift dzire in Amritsar, online booking in Amritsar. D&D Travels is the best taxi provider in Amritsar. book Swift Dzire for a group tour, family trip, wedding function, parties with us. swift dzire Taxi hires in Amritsar. Car rental company in Amritsar. one way cab, cab in Amritsar, Taxi in Amritsar, Amritsar car rental, Amritsar to Amritsar car rental service, Amritsar to Amritsar cab on rent.
Maruti Dzire is a comfortable and stylish sedan that comes in a 1.3 L Diesel and Petrol engine. The adjustable tilt steering, the spacious legroom, chic interiors, the classy dashboard and features like Automatic Climate Control have earned Maruti Dzire
Extra Duty: Rs: 9/Km, Rs.90/Hr.
Note: Tolls, Parking, Driver Allowances are extra as applicable.