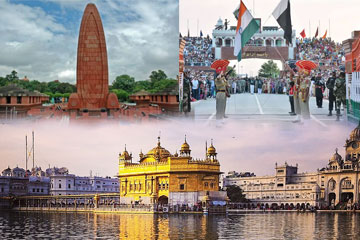 Pick up at 09:00 AM in morning from Amritsar Hotel, Start your city tour with the beautiful Golden Temple while explaining its history and providing interesting facts. Then visit Jallianwala Bagh- the place that reminds every Indian of the brutal and hearless massacre by British general Dyer.
Visit Durgiana Temple, Durgiana Temple Also known as Laxmi Narayan Temple, the Durgiana Temple is one of the most important Hindu Temples located in the Amritsar district of Punjab. Then Visit Maharaja Ranjit Singh Panorama, The Ram Bagh Palace was converted into a museum in 1977 and has an interesting collection of archival records from the court of Maharaja Ranjit Singh, including the attire worn by Sikh warriors, paintings, miniatures, coins, and weapons.
After lunch visit Wagah border The guard changing ceremony every evening in the India- Pakistan border is the highlight of the area.
Then, you will attend the putting of the holy book to bed ceremony(night ceremony/palki sahib).
Meeting place Golden Temple Time 7 p.m. to 10 p.m.